An Irresistible Property
John Huddleston was especially interested in those 243 acres just outside of town, property he undoubtedly had explored long before he and Sarah decided to buy it. The big tract was not only close to some of their other land, it was also remarkably accessible: the main public road running southeast from Murfreesboro cut through the center of the future diamond field. The route was later described as one of the "oldest and most heavily traveled roads in that portion of the state." [27] (See Plates 1, above, and 2, next page.)
The unusual tract of land might have seemed almost useless to farmers accustomed to richer bottomlands elsewhere, but not to men such as John Huddleston. Offering wooded hills as well as rock outcrops and gullies, the west side of the property was an outdoorsman's dream. The fields eastward and down toward the Little Missouri, generally rocky and thick with brush and grasses, were suitable mostly for hog farming and grazing horses and cattle. [28] Moreover, John Huddleston was one of the many farmer-prospectors of the era and had noticed unusual green and rust-colored ground among some of the hills overlooking the river plain. He was also curious about hard, dark rock in that area. Seeing all that variety, it was natural for him to think the property might hold copper, iron, or lead. Living in a part of Arkansas swept regularly by rumors of gold strikes, he of course remained alert to that possibility, too. [29]
In a rare interview later, Huddleston said he had become interested in minerals as a youngster. "An old prospector by the name of Jackman, who used to stop at my father's house 50 years ago, I reckon, was responsible for this interest. Every time Jackman rode up to my father's place, he brought his saddlebags filled with new ore samples, and would always tell me big yarns about the great wealth in the earth, to be had for the finding. I began to prospect then at odd times and have been at it off and on ever since. Sometimes I change the program, and hunt for pearls in the mussel shells of the Little
Missouri River, and find them, too. I always feel good when I find a pearl or something with mineral value." [30]
According to old tales, Huddleston's curiosity about the big tract had been aroused earlier when a geologist, John C. Branner, visited the property and carefully crawled around an outcropping on the upper west side. In one version, Branner's inspection occurred in the late 1880s while he was State Geologist; in another, he appeared again in early 1906. He supposedly used Huddleston as an aide or guide in both instances, and the observant outdoorsman noticed how the stranger kept examining small stones and crystals. After Banner left, frustrated, Huddleston found diamonds. [31]
The story about Branner's visiting in 1906 then added a dramatic twist by asserting that Huddleston found the diamonds before buying the property. Therefore, "shrewdly keeping his discovery a secret," he got an option on 160 acres around the search area, with the purchase price set at $1,000. [32]
As most folk tales about Huddleston, these were woven around a kernel of truth. Geologists had known about the volcanic deposit near Murfreesboro since the early 1840s; Branner had surveyed and mapped the formation in 1888, and recognized it as material similar to that of diamond-bearing "pipes" in South Africa. After hours of crawling about, however, he found no diamonds; nor did he reveal his suspicion the formation might hold those elusive gems. [33] Colorful tales notwithstanding, there is no evidence John Huddleston accompanied Branner or suspected the property might hold diamonds. Clearly, the State Geologist needed no guide during the visit?as his map illustrated, the formation lay just outside of Murfreesboro alongside that main public road. [34]
PLATE 1. First survey map of the Pike County formation, by State Geologist John C. Branner, 1888. A main road to Murfreesboro cut through the future diamond field, which lay about one-quarter mile north of a small riverside property John Huddleston owned before 1890. John and Sarah Huddleston's home farm, bought in 1889, was down the road by the river. Numbers 1-3 have been added to indicate where Huddleston found the first three diamonds in 1906. Basic map, Geological Survey of Arkansas, Annual Report for 1890, II, Map VI; colored copy from the Library, University of Arkansas, Fayetteville.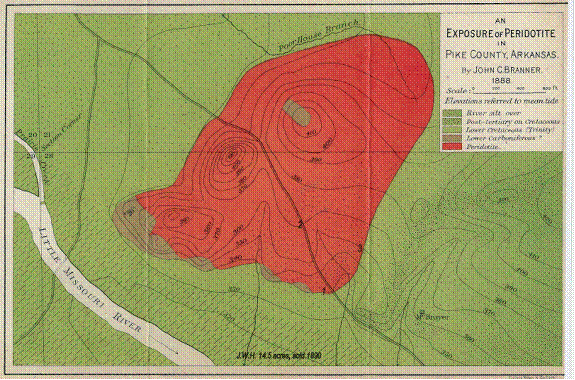 _____________________________________________________________________
The Huddlestons finally felt bold enough to acquire the 243 acres not because they knew it contained diamonds, but because their economic conditions had improved in recent years. After buying the extra forty acres from John's parents in 1900, they added two horses to their holdings, along with six more cattle, ten more hogs, and other items. The total valuation of their personal property increased from $178 to $381, placing them above average for Pike County. [35]
According to the standard tale, John Huddleston "made a deal for 160 acres for $1,000. He didn't have the $100 the owners wanted for a down payment, so he offered a mule and they took it." But the contract with the landowners in July 1905 referred to $300 "cash in hand paid by J. W. Huddleston, the receipt of which is hereby acknowledged." [36] As for a mule, the Huddlestons owned only a $40 specimen in 1904, and a year later, perhaps because of the additional 243 acres, they had upgraded to a good one valued at $85. [37] In any case, they put $300 down and contracted to pay the balance in four annual installments at 10% interest. The first payment of $425 was scheduled for December 15, 1906. No longer needing the forty acres, lying just east of the new farm, they sold or traded it five months later for a stated price of $400?to one of the men holding a lien on the 243 acres. [38]
As the first payment loomed in late 1906, John and Sarah Huddleston had only the
little farm left to sell or use for backing loans. Then suddenly, on September 12, 1906, the nearby N ashville (Arkansas) N ews announced, "John Huddleston has located a diamond mine on his land situated thr­ee miles south of Murfreesboro." [39]
Actually, the tall rawboned farmer had only picked up two diamonds from the surface of his 243-acre farm, the largest 2? carats. [40]
---
[27] "Status of Diamond Fields of Pike County, Arkansas," The Commercial Appeal , Memphis, Tennessee, March 21, 1909, page unclear in microfilm copies available. As early as 1888, the road was shown on State Geologist John C. Branner's survey map of the volcanic formation and surrounding area (Branner and Richard N. Brackett, "The Peridotite of Pike County, Arkansas," American Journal of Science , 38 [July 1889], op. 56; map reproduced in J. F. Williams, "The Igneous Rocks of Arkansas," Annual Report of the Geological Survey of Arkansas, 2 [Little Rock: Woodruff Printing Co., 1891], op. 377) Although this branch of county road was rerouted after the discovery, the original path was still shown clearly in the U. S. Geological Survey Map of 1916 (surveying completed in 1916; map published later in Hugh D. Miser and A. H. Purdue, "Geology of the DeQueen and Caddo Gap Quadrangles, Arkansas," USGS Bulletin 808 [USGS, 1929], Plate 10, and in other USGS Bulletins of 1922-1925). For further details about the map and USGS publications, see Banks, Diamonds, especially Bibliographic Note 1; online at http://www.pcahs.com/ .
For another reference to the road running through the field, see George F. Kunz and Henry S. Washington, "Occurrence of Diamonds in Arkansas," Mineral Resources of the United States, 1906 , Part 2 (Washington, D. C.: Government Printing Office, 1907), 1249. Kunz and Washington are discussed below, Bibliographic Note 4.
[28] The US Geological Survey Map described the terrain of the west two-thirds of the tract, including the diamond-bearing formation. Today, it remains much the same except for loss of soil from the diamond field and deep fill along the southeast rim of the Crater and along the lower east edge where a big gully once ran.
References to John Huddleston as a hog farmer appeared regularly in publications after 1906, and the personal-property tax records support the description. But he also had a considerable number of cattle before 1906 (notes above and below).
[29] The earliest and most reliable sources agreed that Huddleston's interest in the property derived to some extent from the possibility of mineral deposits and that apparent signs of copper, iron, and lead motivated him to search the ground in the summer of 1906. In publications after 1920, gold emerged as virtually the sole motivation ? apparently because that precious metal fit the common, romantic imagery of prospecting (a detailed summary of sources follows in Bibliographic Note 4). By the early 1920s, even John Huddleston had begun using gold as the specific motivation (e.g., interview in Tom Shiras, "Diamond Discoverer," pp. 1, 10). Decades later, Howard Millar went so far as to depict Huddleston panning for gold when he found the first two diamonds ( Finders-Keepers , 20-21). In his interview with Shiras, Huddleston reportedly said he had panned for gold initially, but had started creeping around the field examining the surface before he saw the first crystal.
After the great gold rush in California in the late 1840s and early '50s, rumor-inspired "excitements" swept through western Arkansas at various times. Huddleston's discovery of diamonds in late 1906 spurred a more limited gold-and-silver rush in and around Pike County. (Banks, Diamonds, "Background" and "Speculative Heyday," summarize these topics.)
[30] Shiras, "Arkansas Diamond Discoverer," p. 1.
[31] Junius B. Wood, "America's 35 Acres of Diamonds," Nation's Business, 37 (March 1949), 63 (visit in 1906); Millar, Finders-Keepers , 21-22 (late '80s).
[32] Wood, 63.
[33] John C. Branner and Richard N. Brackett, "The Peridotite of Pike County, Arkansas," American Journal of Science , Series 3, 38 (1889), 50-59 (survey map opposite 56). For Branner's activities and the general setting, see Banks, Diamonds, "Background and Discovery." The tale about Huddleston and Branner seldom appeared in early folk tales, but became prominent after Huddleston's death in November 1941. Junius Wood's article was the first noticeable instance (details in Bibliographic Note 5, below).
Later, the New York Times erred in saying John Branner "called attention years ago," while State Geologist, to the similarity between the Pike County formation and mines in South Africa "and expressed the opinion that the presence of diamonds was indicated in that portion of Pike County, and yet this valuable opinion was absolutely ignored." ("Slow to Dig Diamonds," Times, August 5, 1907, p. 7.) The report of 1889 carefully refrained from mentioning such a possibility, to avoid stirring up the prospecting fever still afflicting Arkansans in the western part of the state.
[34] It is possible that some diamond hunter visited the property in the wake of publicity surrounding the Cullinan Diamond, the stunning specimen taken from the new Premier Mine of South Africa in January 1905. It weighed 3,024 +¾ carats after preliminary cleaning?more than three times as much as the previous world record. Branner, however, had left the state years before that event. Nothing in available records supports the tale about Huddleston accompanying a visitor.
[35] Personal Tax, 1904, p. 69; 1905 , p. 73 (see comment above, Bibliographic Note 3). Taxable items, 1904: two horses ($140 total value), eleven cattle ($55), one mule ($40), thirty-three hogs ($33), one wagon or carriage ($25), one gold or silver watch ($8), total of "all other Property required to be listed" ($80), total valuation ($381), tax ($6.39); average total valuation for individuals on p. 69, $190. Items for 1905 (evidently a market year for hogs): eleven cattle ($55), one mule ($85), three hogs ($3), two wagons or carriages ($60), one watch ($8), other taxable ($100), total valuation ($311) tax ($5.78); average for p. 73, $244. The number of hogs rose to 26 in 1906 and were still valued at $1 each, the standard price.
[36] Quotation from Millar, Finders-Keepers, 19; Pike County Deed Record L, 340-345, Contract to Sell, H. M. and M. J. Ross, W. G. and Mattie McBrayer, F. E. and Nellie McBrayer, and Florence McBrayer to J. W. Huddleston, July 15, 1905.
The long contract set a schedule of annual payments to each of the four co-owners of the 243 acres. Apparently, there were separate promissory notes involved, because no marginal notations appear on the contract. The document was properly notarized on July 15, 1905, but was not filed at the county courthouse until October 12, 1906, some three weeks after the Huddlestons sold diamond-mining interests an option to purchase the property (details below). For some reason, the Pike County Circuit Clerk re-verified the contract on June 2, 1906 ? two months before the date of discovery reported later.
[37] Personal Tax [for] 1905, p. 73. While gaining a good mule, Huddleston evidently sold or traded two horses to someone during the 1905 tax year. With the big tract to care for, along with the small farm, the horses probably were given up in order to buy a sturdy mule and gain a bit of cash.
[38] Deed Record N, 411, Warranty Deed, John W. and Sarah A. Huddleston to W. G. McBrayer, December 15, 1905 ($400 for 40 acres: SW ¼ of the NW ¼ of Section 27, Township 8 S., Range 25 W). The Huddlestons bought the property from John's parents in 1900.
[39] "Diamonds in Pike," Nashville [Arkansas] News , September 12, 1906, p. 1. Nashville, a small commercial hub, lay about fifteen miles southwest of Murfreesboro, in Howard County.
[40] The reputable Little Rock jeweler who first examined the two diamonds, Charles S. Stifft, specified their weights: 2 5/8 ? carats and 1 3/5 carats (Stifft's long statement was quoted fully in "Diamonds Found in Pike County," Arkansas Gazette , September 21, 1906, p. 1; article expanded, with the same statement, as "Pike Diamond Lands–Have Been Sold to a Little Rock Syndicate," Nashville News, September 22, 1906, p. 1).
Bibliographic Note 3a . Although Stifft's weights were authoritative, other early sources differed. As a result, descriptions of the first diamonds have varied over the years. Huddleston likely contributed to the early confusion by showing visitors some diamonds found after he agreed to continue diamond hunting for Sam Reyburn's group when it got an option on the farm in September 1906 (discussed below). Such diamonds belonged to Reyburn, the group's Trustee, to be returned to the Huddlestons only if the group dropped the option; but undoubtedly the newly famous John Huddleston was allowed to keep "demonstration" diamonds while in the field, perhaps in the Bull Durham tobacco sack mentioned in a later tale.
Geologists George F. Kunz and Henry S. Washington, both of whom had ample opportunities to talk with Huddleston in the field, reported 4½ carats and 3 carats for the first two finds, and ½ carat for a third ((Kunz and Washington, "Occurrence of Diamonds in Arkansas," Mineral Resources of the United States, 1906 , Part 2 [Washington, D. C.: Government Printing Office, 1907], 1247-1251). A professionally written article, "Genuine Diamonds Found to the Number of 140 in Pike County, Arkansas," Arkansas Gazette , August 4, 1907, p. 4, included a widely used list of diamonds collected up to about that time and identified Huddleston's first find as 2 7/16 + 1/64 carats and the second as 2 5/8 + 3/64 . John T. Fuller, a mining engineer who worked at the diamond field from mid-1908 into 1912, reported "Three stones, weighing 2 5/8+3/64 carats, 2 7/8 carats, and ½ carat, now in possession of Mr. Huddleston." (Fuller, "Report on Property of the Arkansas Diamond Company, November 11, 1908, p. 20, in Arkansas Diamond Company, prospectus, described in Banks, Diamonds, "Bibliographic Note 4"; Fuller, "Report on Property of the Arkansas Diamond Co.," January 1, 1909, in "Reports and Information," 26, Banks, ibid.; cf. Fuller, "Diamond Mine in Pike County, Arkansas," Engineering and Mining Journal , 87, No. 3 [January 16, 1909], 152, which repeated Kunz and Washington's description of the first gem, "a white stone of 4½ carats.") Later, apparently to simplify the matter, Dallas Tabor Herndon's popular state history settled on "about three carats each" for the first two (Herndon, Highlights of Arkansas History [Little Rock: Arkansas History Commission, 1922], 152).
Compare those sources with Huddleston's comment during an interview in the mid 1920s, no doubt influenced by Stifft. "The first one I found turned out to be a steel blue gem weighing one and three-eighths carats. The second one . . . was the same type and weighed two and three-eighths carats. The third one was a yellow stone, heart-shaped, and it weighed one-half carat." (Interview by Tom Shiras, quoted in Tom Shiras, "Arkansas Diamond Discoverer," Arkansas Gazette , Magazine Section, January 4, 1942, pp. 1, 10.)
Although the initial report of the Nashville News mentioned only two diamonds, Huddleston picked up a third soon afterward, reportedly while Samuel Reyburn of Little Rock was at the property trying to secure an option ("Genuine Diamonds Found to the Number of 140 in Pike County, Arkansas," Arkansas Gazette , August 5, 1907 , p. 4, reprinted as "Diamonds Genuine," Nashville News , August 10, 1907, p. 3). Charles S. Stifft, the Little Rock jeweler who examined the first two diamonds, also mentioned that a third reportedly had been found after he received those (sources above). Stifft's account is consistent with Shiras' quotation from his interview with Huddleston c. 1924: "'In about two weeks [after sending the first two to Stifft] I received a letter from the Little Rock man, saying that if the stones were not something else?I forgot what he called it?they were diamonds. Then I found another one.'" ("Discoverer," p. 1.) Overall, however, there are too many contradictions in the data to establish a satisfactory timeline of events.
The New York Times, one of the most unreliable sources during the early era, evidently received erroneous information from its Little Rock correspondent: Huddleston sent the "first diamond" to Stifft; then "after two others were found," Stifft sent the diamonds to a New York firm ("Slow to Dig Diamonds," Times, August 5, 1907, p. 7).
A few of the early sources said Horace Bemis, a prominent lumberman from nearby Prescott, was the first to see Huddleston's two diamonds, and that he took one to St. Louis for identification (Miser and Ross, "Diamond-Bearing Peridotite in Pike County, Arkansas," USGS Bulletin 735-I , 285: ". . . suspecting they were diamonds, [Bemis] took one to the Mermond, Jaccard and King Jewelry Co., of St. Louis."). The reference to Bemis was cut from subsequent editions of Miser's report, but was quoted fully in Thomas, Arkansas and Its People , Vol. 2, 386. After World War II, this story was revived and embellished a great deal (see Bibliographic Notes 5 and 6, below, comments about Junius Wood's "America's 35 Acres of Diamonds" and Howard Millar's Finders-Keepers ).
The involvement of Bemis in 1906 gains credibility from the fact that his hometown newspaper, Prescott's Nevada County Picayune, repeated the initial announcement appearing in the Nashville News: "Pike County Diamonds," Picayune , September 14, 1906, p. 1. Afterwards, the newspaper carried articles about the diamond field only occasionally (e.g., "Pike County Diamonds," January 18, 1907, p. 1 [from the Nashville News: Reyburn securing more options; Huddleston, working with Reyburn's group, has found seventeen diamonds]; "Big Diamond Company Formed," March 5, 1908, p. 1 [American Diamond Company, based in Texarkana]).
In 1908, Bemis and his brothers became the mainstay of another mining group involved at the diamond field, the Ozark company (Banks, Diamonds, "Northeast Slope–Ozark," online at http://www.pcahs.com/ ).
What happened to Huddleston's first three diamonds? According to the initial report in the Nashville News , September 12, 1906, he had sold the first two for $600 (one for $400; the other, $200). Other sources indicated, or at least implied, that the Discoverer kept his first three finds, and one source said they "were later cut by Tiffany in New York, being pronounced perfect gems, equal in purity to those of South Africa." (Jim G. Ferguson, Minerals in Arkansas [Little Rock: Arkansas Bureau of Mines, Manufactures and Agriculture, 1922], 56; restated in Herndon's Highlights of Arkansas History [1922], 152.) In Shiras' interview, c. 1924, Huddleston merely said he had sold the third find, a yellow heart-shaped gem weighing one-half carat, for $100 ("Arkansas Diamond Discoverer," p. 1). In any case, the first two diamonds reportedly were still in Murfreesboro in July 1931, on display at the Pike County Bank ("Radio Broadcast on Diamond Mines," Pike County Courier , July 17, 1931, p. 1). Compare that report with a new tale that emerged briefly after Huddleston's death: A few years after selling the diamond property, the Discoverer was broke in New Orleans and "pawned the original diamonds for railroad fare back to his old hunting grounds. As a civic duty, the Pike County Bank eventually bought the stones to exhibit to visitors." (Wood, "America's 35 Acres of Diamonds," 64.)
John Huddleston's property tax for 1906 included only a $5 watch under the general category of "Gold and Silver Watches, or watches of any other metal, Diamonds and Jewelry of every kind." The large, unexplained valuation for that category in 1907 ? $305 ? might seem to suggest Huddleston declared one or two diamonds; but considering that the family had bought several watches and other unspecified personal items, that money probably reflected those purchases instead of diamonds found earlier. (Pike, Personal Tax Record 1906, p. 84; Record 1907 , p. 91, Pike County Archive and History Society, Murfreesboro.)